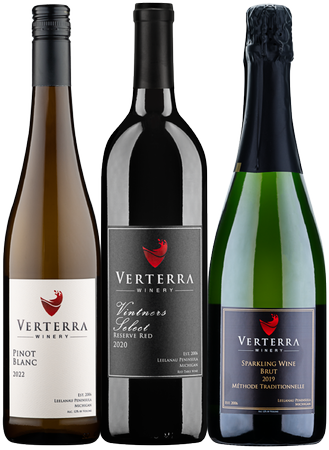 Connoisseur
This 3 pack is perfect for that person who loves the finer things, including great wines. Included is our:
2020 Vintners Select which is made from our best 8 barrels (out of more than 60) of Merlot and Cab Franc from the 2020 vintage and aged in French oak for 3 years.
2019 Verterra Sparkler which is made in the traditional method of French Champagne. Brut in style this wine is excellent now but will age exceptionally well. This will stand toe-to-toe with any French Champagne.
2022 Pinot Blanc is a wine we have grown a reputation as producing the best in the state. Fruit forward and dry this wine is excellent by itself or with food.
Order by dates:
Sunday December 17th for AZ, CA, FL and TX
Monday December 18th for IA, MN, MO, NY, Washington DC
Tuesday December 19th for IL, IN, OH and WI
Wednesday December 20th for MI